VU 139 cm (55 inches) 55K160 Full HD LED TV
SKU
VU 139 cm (55 inches) 55K160 Full HD LED TV
Special Price
₹41,000
Regular Price
₹53,000
23% off
23% off
2 Days Delivery
7 Days Replacement
3 Months Warranty
10 + 10 W Speaker Output : Rich, powerful sound
1920 x 1080 Full HD - Watch Blu-ray movies at their highest level of detail
60 Hz : Standard refresh rate for blur-free picture quality
2 x HDMI : For set top box and consoles
1 x USB : Get content from USB drives
In The Box
Handset & Accessories (Headphone, Charger & Cable - Compatible Generic Brand)
Warranty
3 months warranty for device provided by our warranty partner.
Warranty Service Type
For warranty claims please write to Info@ovantica.com or call hotline 09150275508
Not Covered in Warranty
Physical, Liquid, Electrical Damages and Unauthorized repair is Not Covered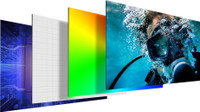 Top-notch Panel
We all know that the panel of the TV makes or breaks the viewing experience. However, you'll be surprised by how many manufacturers miss out on this simple point and choose low-grade panels to cut costs. Thankfully, Vu is not one of them. The A+ grade panel not only offers excellent picture quality, but also cuts down on annoying reflections.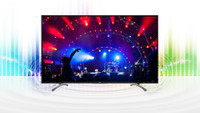 Feel the Beat
Don't you hate it when you just want to watch TV, but the poor audio quality doesn't let you enjoy the experience? Well, gone are those days. Vu's Digital Noise Reduction (DNR) technology ensures extremely fine audio quality. So, sit back, relax and enjoy watching TV without a worry in the world.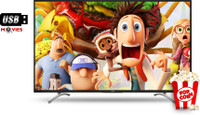 Connectivity Options Galore
You're really spoilt for choice with this TV when it comes to connectivity options. Besides having a USB port that lets you plug in a pen-drive, you can also directly connect your laptop to the TV via an HDMI or VGA cable.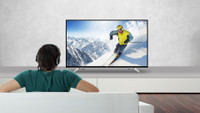 Easy Listening
The problem with watching TV at night is that you have to keep the volume really low to not disturb your family's or flatmates' sleep. Well, just connect a pair of headphones to this TV and enjoy the experience in solitude without bothering anyone else.
Thin is The In Thing
This Vu TV is a sleek and stylish product that occupies very little space as it can be wall mounted or placed on a TV stand. Its slim line bezel give the panel a premium look.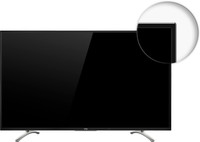 Other Features
Sound: 20 W, HDMI ports: 2, Number of speakers: 2, USB ports: 1, Built-in Wireless LAN: No, Display: 55-inch, 1920 x 1080.